By Ronan Manly
During March and April, amid global financial turmoil, unprecedented demand for physical gold, refinery closures and a London lockdown, one question on the minds of many in the gold market was how HSBC London, the vault custodian of the SPDR Gold Trust (GLD), was consistently able to source huge amounts of gold bars to back the enormous inflows into the world's largest gold-backed Exchange Traded Fund (ETF).
173 tonnes during London Lockdown
From Monday 23 March (the day Boris Johnson triggered the UK and London lockdown) to close of business 12 May, the SPDR Gold Trust claims to have taken in a massive inflow of 175 tonnes of gold bars, swelling its gold holdings from 908 tonnes to 1083 tonnes.
That's an addition of approximately 14,065 large Good Delivery gold bars since 23 March, each weighing 400 troy ozs, which would take up 29 stacks of pallets, each 6 pallets high, and is more than three times the amount of gold pallets labelled in the below photo.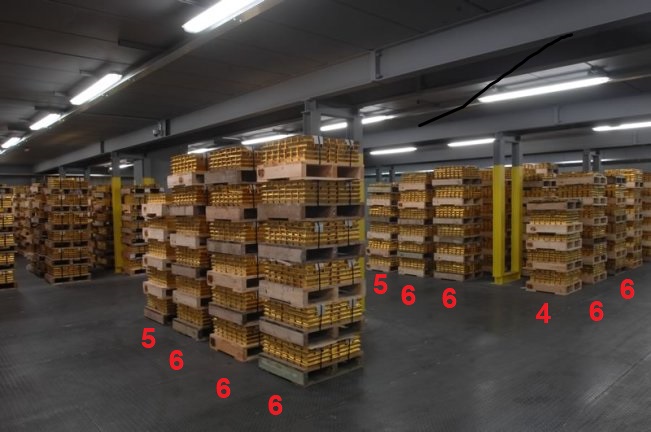 The time period of these GLD gold bar inflows was also not 'business as usual' in the London gold market despite what the London Bullion Market Association (LBMA) may have you think, coinciding as it did with London gold spot liquidity problems (LBMA market maker bid-ask spreads and COMEX futures – spot gold spreads both reaching nearly $100 on 24 March) and a period in which no one else around the world was able to get their hands on physical gold in large quantities.
It also came at a time in which HSBC now reveals that it had a $200 million one-day loss due to what HSBC describes as:
"unprecedented widening of the gold exchange-for-physical basis, reflecting Covid-19-related challenges in gold refining and transportation, which affected HSBC's gold leasing and financing business and other gold hedging activity leading to mark-to-market losses. "
So how did HSBC manage to source so much gold for the GLD during these times? Having gold in the right place at the right time? Using a proverbial forklift truck to shunt 173 pallets of gold from one side of a secretive vault in London to the other during the London lockdown? Or begging and borrowing the gold from anywhere it could find it?
Lender of Last Resort – Bank of England
…
Read the remainder of the article at https://www.bullionstar.com/blogs/ronan-manly/amid-london-gold-turmoil-hsbc-taps-bank-of-england-for-gld-gold-bars/
Powered by WPeMatico