Tara Clarke:  Alphabet Inc. (NASDAQ:GOOGL), formerly known as Google Inc. up until Aug. 10, reports Q3 2015 earnings after the bell on Thursday, Oct. 22.
It's been an impressive 13 weeks for the innovation powerhouse. To start, GOOG stock rose 17.94% in Q3 alone (from June 30 through Sept. 30). That's an $81.8 billion market cap increase – which means Google almost tripled the entire value of eBay Inc. (Nasdaq: EBAY), worth $29.4 billion, in a single quarter.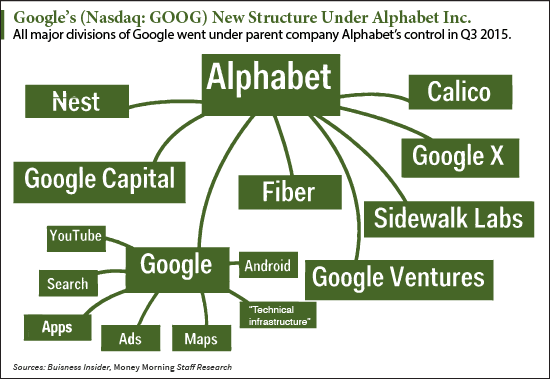 As remarkable as that sounds, Google's latest push into some truly surprising fields is the real standout story right now.
After strong Google earnings, here are five of the most ambitious projects Google has already dived into in its fourth quarter 2015…
5 of the Most Ambitious Google (Nasdaq: GOOG) Projects in Q4
GOOG Q3 Project No. 1 – Africa's largest wind farm:  On Oct. 20, Google bought a 12.5% stake in Africa's largest wind farm project, Kenya's Lake Turkana. Danish wind turbine manufacturer Vestas Wind Systems A/S owns the project, which is expected to be completed in 2017.
According to Bloomberg, the Lake Turkana wind project will have a capacity of 310 megawatts and will cost about $700 million. It will power roughly 2 million homes once connected. That means it will deliver 15% of Kenya's current grid capacity.
"We are making a commitment to invest in Lake Turkana because it makes financial sense, but also because it has the potential to have a massive impact on Kenya's grid, helping to spur the deployment of renewable energy in one of the world's fastest-growing countries," Google Vice President of Energy John Woolard said.
Google has invested more than $2 billion to 22 clean energy projects to date. This is the firm's second such investment in Africa (it bought into the Jasper solar project in South Africa in 2013).
GOOG Q3 Project No. 2 – Solar-powered contact lens: Google was awarded a patent for a solar-powered contact lens on Oct. 13. These things do way more than just correct vision…
According to TechInsider, the firm originally announced its smart contact lens project in 2014, with a goal of using them to measure glucose levels in tears using a tiny wireless chip and a tiny glucose sensor.
But the new patent reveals more ambitious plans. According to the patent filing, the latest version can collect biological data about the wearer via sensors that detect a range of data, such as internal body temperature and blood-alcohol content. According to the patent, it may also gather environmental data like potential allergens (grass, pet dander, etc.). And it can communicate with computers to log all this data.
GOOG Q3 Project No. 3 – Auto insurance provider: The tech giant already got a foothold in the auto insurance business with "Google Compare." The service allows web users to shop for the best rates. And Google Compare Auto Insurance Services Inc. is licensed to sell insurance from providers like MetLife in 26 states.
But GOOG's role in the subindustry took a huge leap on Oct. 7 when it became an auto insurance provider itself. The company announced it will accept liability for any accidents that result from a component or design flaw in one of its Autonomous Vehicles (AVs).
You see, insurance has long been a speculative pitfall for AVs. "It's going to be very complicated," Joe Woods, the vice president of government relations at Property Causality Insurance Association, told Big Country back on Sept. 21. "Whose fault is it when two of these cars hit? Did it fail because the system failed, the software was bad, the hardware was put in wrong, or maybe one of the drivers overrode the system? Those are complicated issues when you get into a courtroom and could be very expensive for an insured driver."
Google's move this quarter took a step toward making AVs a reality for drivers.