Jim Bach:  There's a fundamental shift happening in China's economy. It's giving investors an incredible opportunity to profit with this small-cap ETF.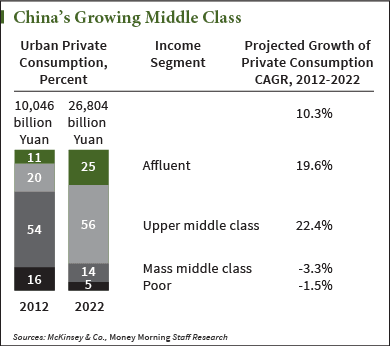 In the last decade, China's economic growth came from capital spending. This benefitted the large state-owned enterprises (SOES). But the Chinese economy is changing focus.
It's moving toward a consumption-driven model. It's trying to become free market-friendly. And the traditional large-cap investments are no longer providing the most compelling growth story.
This is not to say these SOES should be avoided. The largest and most liquid China ETF is the iShares China Large-Cap ETF (NYSE Arca: FXI). And for investors looking to dip their toes into emerging markets, it's perhaps the safest way to play China.
The allure of these companies is the patronage it receives from the Chinese government.
"These mega-cap state-run companies have benefited from political and financial support from the government, their significant economies of scale, favorable regulations, and oligopolistic positions in their respective industries," wrote Morningstar analyst Patricia Oey.
But a move from the capital spending model is going to challenge the oligopolistic position of these large, Chinese government beneficiaries. Investors looking to make the most of China will want to look toward the growing middle class.
"This is a numbers game," said Money Morning Chief Investment Strategist Keith Fitz-Gerald. "With 1.3 billion consumers who want to live like we in the U.S. do, the path is clear to higher profits."
There are 600 million people in China's middle class. And that figure is expected to grow by 25 million a year, according to Ernst & Young. According to McKinsey & Co., China's middle class – wage earners making between $9,000 and $34,000 a year – has grown from 4% in 2000 to 68% in 2012. McKinsey projects that will grow to 75% by 2022.
This outgrowth of Chinese spenders is going to turn the traditional model on its head.
No longer will it be the large enterprises carrying the torch in the so-called "Chinese economic miracle."
Instead, it will be the wage earners seeking a higher standard of living. And the best Chinese stocks to buy will be the companies tapping this growth market.
That's where this small-cap ETF comes in…
A Chinese Small-Cap ETF Play on the Country's Middle Class
The Guggenheim China Small Cap ETF (NYSE Arca: HAO) has two distinct advantages over the traditional Chinese investment vehicles like FXI. This exchange-traded fund seeks to replicate the performance of the AlphaShares China Small Cap Index.