This post 3 Reasons Why You Should Welcome a Stock Market Correction appeared first on Daily Reckoning.
Remember Sanford and Son?
Fred Sanford would always clutch his chest whenever he got anxious, saying "This is the big one." Of course it never happened.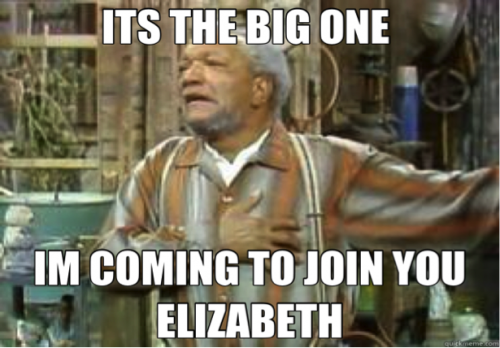 And so many market watchers are like Fred Sanford these days. Whenever the market has a down day they shout "This is the big one" because they think it's all just one pin prick away from going splat.
And with the worst jobs report since December 2013 dumped on the market over the long weekend, plenty of investors are once again worrying the big one's right around the corner. New (old) questions are emerging. Will poor manufacturing data drag the US economy into recession? Will the strong dollar sink stocks?
I don't think we're in for "the big one" just yet. But I do see some signs pointing toward potential weakness in stocks in the near future.
And today I want to show you three reasons why a correction — not an outright crash — wouldn't be so horrible after all.
Now when I say "correction," I mean about a 10%-20% decline in the major averages. That's not an outright crash, which is, well, a helluva lot worse.
So even if your portfolio isn't at risk of a massive coronary, you need to keep a close eye on its heart rate.
Does that mean we abandon our bullish outlook for certain stock sectors? No. But it means we have to prepare ourselves for some unexpected stress. We may have to sell a position earlier than we thought and sit on some additional cash, for example. Not the end of the world…
Listen, corrections and bears markets are necessary. If it was sunny every day we'd never got any rain. We'd end up living in the Sahara eventually. Rain— like corrections— is necessary for future growth, even if it sometimes ruins our beach vacation. So don't go nuts if we see a correction. It can be healthy.
So here are three reasons you should welcome a correction—whenever the hell one decides to finally show up…
A correction is good news for patient investors and long-term traders
Ever put a great stock on your watch list only to see it jet higher? When I flip through my old notes I inevitably come across a stock I wanted to scoop up on the dips — except there were no dips to buy.
But during a correction most stocks—even the strongest names—will drop. That gives you the perfect opportunity to buy the companies you missed out on over the past few years.
Who wouldn't want a second chance at a good thing?
People might actually watch CNBC again
CNBC is caught in a ratings death spiral.
How bad has it gotten at CNBC?
In 2014, the network endured its worst year for its target demographic since 1992. And according to Value Walk, CNBC is experiencing its lowest total number of viewers since 1994. Cripes…
But a good ol' fashioned correction might help drag the premier financial news network out of its slump. They could run their infamous "Markets in Turmoil" graphic 24/7! Everyone worried about their portfolios would tune in…
Wait — I said I'd give you three positive consequences of a correction. I'm not so sure getting more folks to watch CNBC is a good thing. Lemme get back to you on that. Anyway…
Everyone will shut up—finally
And that is a good thing. You won't have to listen to the experts talking about a correction anymore. Everywhere you turn you see reports about how stocks are too expensive. Then there are the talks about bubbles. Every strong sector is a bubble these days, according to some people, from biotechs to technology IPOs to fast food restaurants.
But you know what will slam the lid on all this talk? A correction. You might have to hear the experts gloat about how they were right. But that's OK. They'll be too busy beating their chests to notice the opportunities we'll see. While they're congratulating themselves we'll find the profitable stock market trends that'll restore your portfolio to full health.
There you have it, three reasons why a correction wouldn't be the worst thing in the world.
And don't worry. When I see "the big one" coming I'll do my best Fred Sanford impression for you. But it's not now…
Regards,
Greg Guenthner?
for The Daily Reckoning
P.S. Don't go nuts if we see a correction. It could hand you other opportunities. If you want to cash in on the biggest profits this market has to offer, sign up for my Rude Awakening e-letter, for FREE, right here. Stop missing out. Click here now to sign up for FREE.
The post 3 Reasons Why You Should Welcome a Stock Market Correction appeared first on Daily Reckoning.